In-home fitness equipment is convenient, saves you money, and makes exercising much easier. Stationary bikes are among the most popular cardio machines because they're low impact and are great for losing weight, improving mobility, doing rehab, or just staying active.
But if you're like me, and don't have a lot of extra space at home, you're going to have a tough time finding a place to put a full-size exercise bike. Answer? Folding bikes.
Folding exercise bikes are typically in the form of an "X" that hinges at the middle to either fold out into a stationary bicycle for exercise or fold up to be stored when not in use. for smaller apartments/homes.
In this review, I look at who they're designed for, who they're not designed for, what features to look for, and reviews of some of the most popular styles available.
Runner Ups:
Why Folding Exercise Bikes?
Folding exercise bikes are suitable for nearly anyone who wants to cycle for exercise. They are designed specifically for smaller apartments and homes.  They're quiet, compact, easy to fold, portable, and don't cost much more than a gym membership.
Folding bikes are also a convenient option for elderly people with joint damage and arthritis since biking is specifically recommended for exactly that.
Because of their design, folding exercise bikes are not recommended for people who weigh 300+ pounds . If you're looking for intense, spin class-style workouts, with a variety of position changes, a folding bike isn't going to give you the stability or resistance you'll need.
Styles to Choose From
Start with the style of bike — do you want to be positioned upright or seated? Are you looking to lose 50 lbs or just want an occasional workout? Here are a handful of different styles you might come across:
Desk: Folding desk bikes are designed for anyone who wants to stay moving while they're working. 
2-in-1: These are bikes that can be folded into a recumbent or upright bike. 
Upright: Upright bikes ride like a regular bicycle and don't have any back support. They offer more intense workouts and engage your core as you pedal.
Recumbent: These bikes are seated with back support and usually reserved for less intense workouts than upright bikes. Great for rehab and for anyone living a sedentary lifestyle.
Multifunctional: Folding bikes that come with attachments to accommodate other workout equipment like dumbbells and resistance bands.
Important Features to Look For
Once you've narrowed it down to a particular style of bike — recumbent or upright — here are a few other things to keep in mind as you make your way towards a purchase:
Seat: You want a seat that is firm but well-shaped. A seat that is too soft can actually cause discomfort while exercising. The handlebars should have a material or texture that makes them easy to grip without slipping.
Brand: How's the warranty and return policy? Are they known to have good customer service? Even the best products can have issues and poor customer service can make everything 10x worse.
Display: Is the display backlit for visibility? Are the numbers large enough to easily read during your workout?
Build quality: Is the bike constructed of durable materials? Is the base wide enough to provide a comfortable amount of stability?
Adjustability: Can the settings on the bike be adjusted for your specific height? Look for 4-way adjustability which means you can move up/down/forward/backward.
Resistance types: belt, chain, magnet or fan. If you're concerned about noise, look for a bike with magnetic resistance because they're the quietest option and can really make a difference if you plan to watch TV, listen to music, or talk on the phone while you ride.
Best Folding Exercise Bike Reviews
Best folding upright exercise bike:
The 575 XLS is my top pick because it's got top-of-the-line features that no other products have. It weighs in at 50 lbs and supports up to 400 lbs with a 1-year limited warranty. But what sets it apart? The technology.
Not only is the display big, easy to read, and easy to understand, but it comes with 21 preset workout programs. You can set and track your goals by distance, time, or calories. And then use Bluetooth to pair your phone and download your results onto the MyFitQuest app (iOS only). 
If you want all the bells and whistles, and don't mind paying for it, the 575 XLS is your bike.
---
Best folding recumbent exercise bike: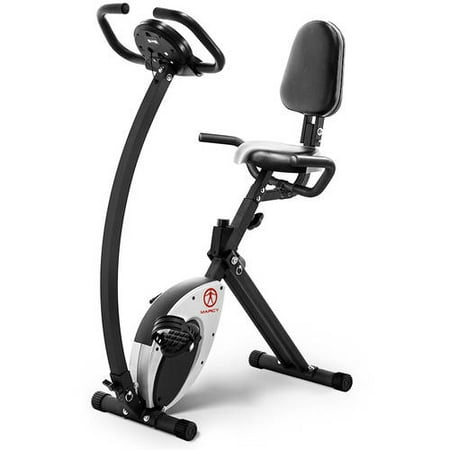 The NS-653 from Marcy measures up quite comparably to my 2nd pick for best folding recumbent bike: the Exerpeutic Gold 525 XLR. But there are a couple of key differences that may help you decide.
The pros of the NS-653 are that is has multiple grip points (handlebars in front and on the side) and a high, and very comfortable, backrest. It also has a 2-year warranty.
But what it's missing, that the 525 XLR has, is pulse sensors and a higher weight capacity (up to 400 lbs vs 250 of the NS-653) at a cheaper price point. Only a 1 year limited warranty, though. 
So if you care more about having a better warranty, a slightly more comfortable seat, and handlebars on the front and side of the bike, your best bet is the Marcy NS-653. 
For pulse sensors, a higher weight capacity, and shorter warranty, at a cheaper price point, go with the 525 XLR.
---
Best multifunctional (4-in1) folding exercise bike:
This 'multifunctional' folding exercise bike is basically the same as 'regular' bikes only it comes equipped with extra dumbbells, a resistance band, and a waist twister disc which makes it easier to a get a complete workout since bikes only do half the job.
It's positioned upright, comes with pulse sensors, supports up to 300 lbs, and is reasonably priced. This is a good choice if you want to workout your entire body from the comfort of your own home.
---
Best dual-action (2-in-1) folding exercise bike:
This dual-action folding bike is my top pick because quite honestly there's not much competition. It's still a solid bike but it's not a saturated category like the other ones.
The nice thing about this bike is that the handlebars can be pulled/pushed as you ride so you can get a full body workout.and It's not the most intense workout by any means but it satisifies low to moderate intensity workouts like any other compact bike.
It weighs 43 lbs, and supports up to 220 lbs, and comes with a 90-day warranty. Feel like the price point is a bit too high but it's still reasonable. 
---
Best budget folding exercise bike:
The ProGear model is my top budget pick beating out the Exerpeutic model because it's cheaper, lighter (35 lbs vs 42 lbs) and still supports up 220 lbs. Comes with a 1-year warranty.
It also comes with pulse sensors that make fat loss easier by keeping you in the fat burning zone. And the seat is fully adjustable so it can accommodate a variety of body types from 5'1″ to 6'1″. 
If you want the biggest bang for your buck, this is a great choice. 
---
Runner Ups:
This is a step down from the 575 XLS but comes at an affordable price. The trade off being technology features: Bluetooth, 21 preset workout programs, highly visual LCD display, and the ability to set and track your fitness goals). If you don't need all the bells and whistles still want something that's solid and reliable, this is your best bet. 
This is a great choice if you exceed the 220 lbs weight capacity of the ProGear model (supports up to 300 lbs) or want a slightly larger seat. Otherwise, the ProGear is a better option because it's very similar and costs less.
This bike is similar to the Sunny Health SF-RB1117 but it supports more weight (up to 300 lbs), comes with a bigger seat back that sits at your mid-upper back, and has a better warranty. And as a result, it costs a few bucks more. So if you have a bad back or exceed 220 lbs, this bike is a solid pick. Comfortably accommodates people from 5'2″ to 6'2″.
This was almost my top pick for best budget folding bike but the ProGear model is a bit cheaper, a bit lighter, and has pulse sensors. This model has a better warranty (3 years vs 1 year on the frame) and is a recumbent style. So if you want more warranty and are okay with lower intensity workouts, this is a good pick.
This was my second pick for best folding recumbent bike next to the Marcy NS-653. It's still a great choice and might actually work better for some people. It comes with pulse sensors (NS-653 doesn't), costs less money, and supports up to 400 lbs (compared to 220 lbs on the NS-653).
This was my second pick for a folding desk bike, next to the Exerpeutic Workfit, because it costs more, has a weaker warranty, and has a harder time doubling as a standing desk. But if you prefer an upright style, want more arm padding, and resistance bands, this your best bet.
This is the lighter (39 lbs), more affordable version of the Exerpeutic Gold 500 XLS. If you want to save some money, don't mind a slightly heavier bike (51 lbs), and are okay with only 5 levels of resistance, this is a solid pick. Otherwise, you're better off going with the XLS.
This is a toss up compared to the Ancheer model above because it's slightly more expensive, has a better warranty (2-years vs 1-year), supports more weight (250 lbs vs 220 lbs), but doesn't have pulse sensors. You're basically trading in pulse sensors for a better warranty if you choose this bike. Your call.
---
A folding exercise bike can provide a convenient, space saving solution if you are interested in cardio exercise equipment for your home or office. These models use magnetic resistance to offer a challenging cardiovascular workout while staying quiet enough not to disturb your environment. Because they fold up you can store them out of the way so they don't take up space or create an eye sore in your home or office.
As you review these models, keep in mind that there are small customizations that you can make like a handlebar tablet holder or seat cover that can make the experience more comfortable for you. As with any fitness routine, the more you enjoy the activity the likely you are to keep it up soon a regular basis.
---