Folding exercise bikes are the perfect exercise bike for smaller spaces and can help you lose weight and stay active from the comfort of your home.
But finding the best folding exercise bike can be a bit of a hassle these days with so many options available. This review is meant to point you in the right direction and help you to simplify your buying decision.
We'll cover everything you need to know including the different types of folding bikes, important features to look for, as well as review 5 of our favorite folding bikes on the market today.
Let's get into it!
---
Best Folding Upright Exercise Bike: Exerpeutic Gold 575 XLS
Best Folding Recumbent Exercise Bike: Marcy Foldable Recumbent NS-653
Best Folding Multifunctional Folding Exercise Bike: Urstar Multifunctional Upright
Best Folding Dual-Action Folding Exercise Bike: Sunny Health & Fitness SF-B2620
Best Folding Exercise Bike on a Budget: ProGear 225 Upright
---
Why Trust Us? Fitness Goat spends hundreds of hours researching products to recommend the best picks for most consumers. We never accept free products, do paid promotions, or hide behind our website. If you would like to know more, please contact us here.
---
Why Folding Exercise Bikes?
Folding exercise bikes—also referred to as portable or collapsible exercise bikes—are designed specifically for smaller apartments and homes, and have a few main benefits that regular exercise bikes don't:
They're quieter
They're portable
They're compact
They're inexpensive
They're easy to assemble
Who are they for?
Folding bikes are meant for beginner to intermediate fitness levels and workouts. They're great for staying active at home if you spend most of your days inside and can also help you lose weight if you have a lot of weight to lose and aren't very active as it is.
Another common use case for portable bikes is physical therapy and joint rehabilitation. If you're repairing a knee injury and need a lightweight, low-impact workout to slowly build back your muscles and regain your balance, folding exercise bikes are a great choice.
Who are they not for?
If you're looking for serious workouts to really push yourself, like HIIT for example, fold away exercise bikes are not your best choice.
They're too light and can't handle the abuse that interval training requires like a regular upright bike can. If you tried sprinting (standing and pedaling) on a fold up exercise bike, you'll almost certainly tip over which can lead to injury.
Also, if you're heavier set, say 300+ pounds, these bikes aren't a great fit as the build quality is not on the same level as regular exercise bikes.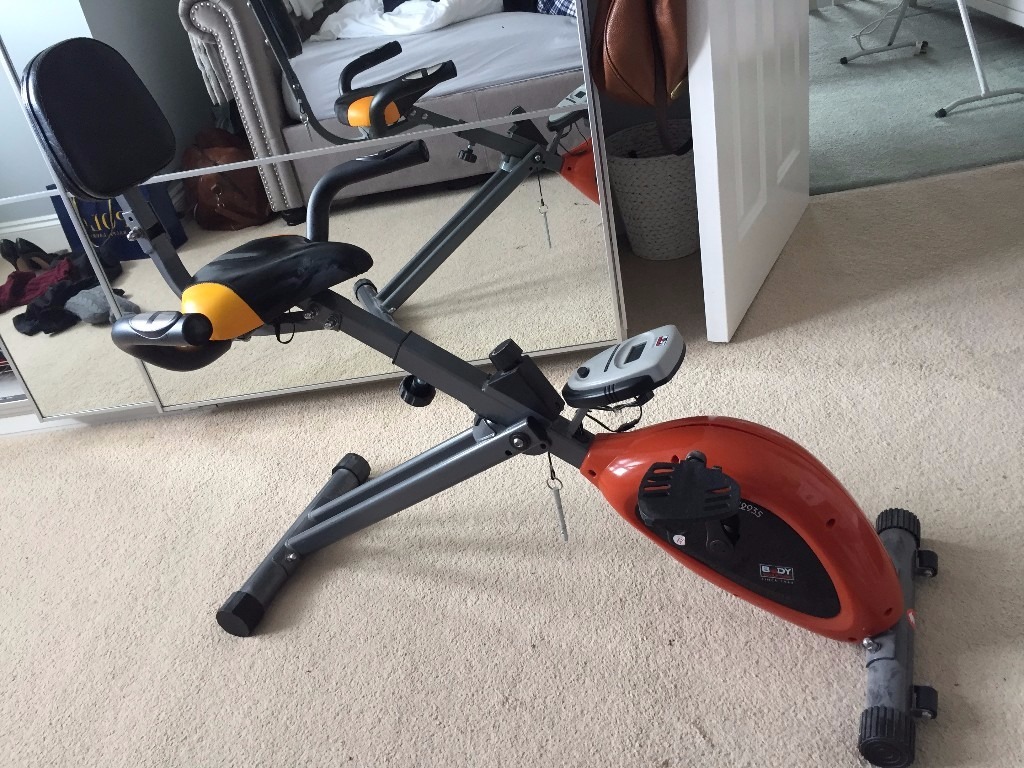 Types of Folding Exercise Bikes
There are several different types of folding bikes to choose from. Here's what you can expect to find as you browse the many different options available:
Folding upright exercise bikes are exactly as they sound—upright bikes that are collapsible and portable. Upright bikes are great if you don't need back support with your bike and are looking for a slightly more challenging workout than a recumbent bike. One of the most popular examples of this is the Exerpeutic Folding Upright Bike which we review in-depth below.
Folding recumbent exercise bikes are exactly as they sound too! Recumbent bikes that can be folded up and easily stored. Recumbent bikes are great for a couple of reasons. One because they come with back support which is great if you have a bad back. Two because they tend to accommodate more weight since they're in a seated position like the Exerpeutic Gold 525XLR that accommodates up to 400 lbs.
Also, since you ride a recumbent bike in a seated position, you completely isolate your lower body and disengage your core which makes for an easier workout. This is why we recommend this option if you are brand new to exercise and want the lightest workout possible.
Multifunctional folding exercise bikes offer more than two types of workouts and often incorporate a full body routine like the Urstar Multifunctional Folding Exercise Bike that we review in-depth below.
These types of folding bikes often come with attachments to accommodate other workout equipment like dumbbells and resistance bands. We recommend multifunctional folding bikes if you want to work your entire body rather than just isolating your legs like most portable exercise bikes.
Folding desk exercise bikes are great if you want to stay active while working. They are designed specifically for smaller office spaces and come with a tabletop for your laptop or notepad. The Exerpeutic ExerFit 1000 is a good example of one.
2-in-1 folding exercise bikes are bikes that have more than one use case. So for example, some of them might double as a standing desk like the Stamina 2-in-1 Folding Bike. Or, sometimes folding bikes will be both recumbent and upright like the Body Rider 2-in-1 Folding Exercise Bike.
7 Things to Consider Before Buying a Folding Exercise Bike
Once you've decided on the type of portable exercise bike you want, here's what else you need to consider before making your final decision.
#1 — Build Quality
Build quality speaks to the durability of the bike and how well the components are. There are a few different ways to gauge the build quality of your fold away exercise bike.
The first thing to look at is the weight capacity. Normally bikes with lower weight capacity aren't as well-built as something that can handle heavier riders.
You can also look at the warranty of the bike which is essentially the brand's trust in the product. If the warranty is reasonable, it's probably a reasonably made bike that will last. If not, chances are you should move off that product and find something else.
But the best way to gauge the build quality is actually sitting on the bike and riding it yourself. If you have a gym or retail store nearby where you can try out a few different styles, we suggest doing this to avoid any surprises. You can always try it out in-stores and buy online like the rest of us do : )
#2 — Comfort & Adjustability
One of the most important things to consider when buying a folding exercise bike is the comfort and adjustability.
Pretty much all bike seats can be adjusted up and down but some bikes have adjustable handlebars that can make the world of difference especially if you have an abnormally tall (or small) frame. The best way to ensure there are no surprises is to try before you buy.
In terms of the actual seat itself, unfortunately, exercise bikes in general are notorious for having hard and uncomfortable seats. The workaround for this is either a pillow or towel, or you can fork out a few extra bucks and buy some additional padding.
A popular bike seat we often recommend is the ProVelo seat. It's wider and has more padding than the average exercise bike seat which will help make your workouts more enjoyable and avoid having a sore backside afterward.
# 3 — Digital Display
Most folding exercise bikes come with digital displays (monitors) that can help make exercising a whole lot easier. They'll give you a high-level look at your workout and display popular metrics like time, speed, calories, and overall distance.
But what you need to keep in mind is that not all monitors are made the same. Some displays are easier to read than others because they come with a backlight and bigger fonts/digits. If the display isn't backlit it makes it almost impossible to read it in the evening which can be incredibly frustrating.
Also, some monitors are much more intuitive than others which can impact your overall experience on the bike. Nothing is worse than having to report back to the user manual every time you want to make a small adjustment on your display.
Your display should be straightforward, easy to use, and only require a little bit of reading (if any) to understand the basics.
#4 — Warranty & Use Case
As previously mentioned, the manufacturer's warranty is a testament to their trust in the product and is something to consider as you narrow down your search for the best folding bike.
If you're buying it for your entire family and know it's going to be used a lot, you might want to consider spending more money on something with a better warranty.
On the other hand, if you only expect to exercise a few times a week, or the bike is being used strictly for physical therapy, you can probably go with a cheaper option that has less of a warranty.
#5 — Convenience Features
There are several convenience features that can add to your overall experience with your folding bike. For example, do you intend on watching TV or reading a book while you exercise? If so, you'll want to make sure your bike comes with a "media tray" or something that can hold your iPad or book as you ride.
Water bottle holders may not seem like a big deal but they can save you from having to stop your workout and getting off your bike to take a sip of water. The better bikes have bigger holders that accommodate bigger bottles and are much more conveniently placed for easier access.
The noise level can also impact the quality of your workout as mentioned in the previous section. Generally, the better the build quality of the bike, the less squeaking and rattling you'll have to endure. Again, try before you buy if at all possible.
#6 — Size & Weight
Most folding exercise bikes are a lot smaller than regular exercise bikes, but that doesn't mean they're all the same size.
Make sure you consider the space your folding bike will be used and stored. Take the proper measurements and compare against the dimensions of the portable bike options you're considering.
This only takes a few minutes and can spare you the hassle of having to return your bike because it doesn't fit like you thought it would. Even though returns are relatively inexpensive these days, they can still be a monumental waste of time and cause unnecessary headaches.
#7 — Resistance
The type of resistance your foldable exercise bike matters for a couple of different reasons. One is the amount of noise the bike makes as you pedal. Two is the associated maintenance that comes along with each type of resistance.
There are two main types of resistance: direct contact and frictionless. Direct contact resistances normally use felt pads to squeeze the flywheel as you increase the tension on the bike. The higher the tension, the more the pads squeeze the wheel, and the harder it becomes to pedal.
Direct contact resistance tend to be less expensive but do require more maintenance as those felt pads have to be replaced every months depending on how often you use the bike. They also tend to be louder than frictionless resistance which is something to consider if you have roommates or neighbors nearby. The last thing you want to do is disturb the people around you every time you want to exercise.
Frictionless resistance usually comes in the form of magnets that provide the same effect as the felt pads, only they don't actually make contact with the flywheel. These types of resistances tend to be more expensive but also much quieter. Plus you don't have to worry about replacing any pads.
Best Folding Exercise Bike Reviews
Best Folding Upright Exercise Bike — Exerpeutic Gold 575 XLS
Sale
The 575 XLS is my top pick because it's got top-of-the-line features that no other products have. It weighs in at 50 lbs and supports up to 400 lbs with a 1-year limited warranty. But what sets it apart? The technology.
Not only is the display big, easy to read, and easy to understand, but it comes with 21 preset workout programs. You can set and track your goals by distance, time, or calories. And then use Bluetooth to pair your phone and download your results onto the MyFitQuest app (iOS only).
If you want all the bells and whistles, and don't mind paying for it, the 575 XLS is your bike.
---
Best Folding Recumbent Exercise Bike — Marcy Foldable Recumbent NS-653
Sale
The NS-653 from Marcy measures up quite comparably to my 2nd pick for best folding recumbent bike: the Exerpeutic Gold 525 XLR. But there are a couple of key differences that may help you decide.
The pros of the NS-653 are that is has multiple grip points (handlebars in front and on the side) and a high, and very comfortable, backrest. It also has a 2-year warranty. But what it's missing, that the 525 XLR has, is pulse sensors and a higher weight capacity (up to 400 lbs vs 250 of the NS-653) at a cheaper price point.
Only a 1 year limited warranty, though. So if you care more about having a better warranty, a slightly more comfortable seat, and handlebars on the front and side of the bike, your best bet is the Marcy NS-653.
For pulse sensors, a higher weight capacity, and shorter warranty, at a cheaper price point, go with the 525 XLR.
---
Best Folding Multifunctional (4-in1) Exercise Bike — Urstar Multifunctional Folding Bike
This 'multifunctional' folding exercise bike is basically the same as 'regular' bikes only it comes equipped with extra dumbbells, a resistance band, and a waist twister disc which makes it easier to a get a complete workout since bikes only do half the job.
It's positioned upright, comes with pulse sensors, supports up to 300 lbs, and is reasonably priced. This is a good choice if you want to workout your entire body from the comfort of your own home.
---
Best Dual-Action (2-in-1) Folding Exercise Bike: Sunny Health & Fitness SF-B2620 (Bike and Rowing Machine)
This dual-action folding bike is my top pick because quite honestly there's not much competition. It's still a solid bike but it's not a saturated category like the other ones.
The nice thing about this bike is that the handlebars can be pulled/pushed as you ride so you can get a full body workout.and It's not the most intense workout by any means but it satisfies low to moderate intensity workouts like any other compact bike.
It weighs 43 lbs, and supports up to 220 lbs, and comes with a 90-day warranty. Feel like the price point is a bit too high but it's still reasonable.
---
Best Folding Exercise Bike on a Budget — ProGear Foldable Magnetic Upright Bike
ProGear Foldable Magnetic Upright Bike
Foldable design with transportation wheels for easy...
LCD display with distance, time, speed, calories...
8 resistance levels with magnetic tension control
Weight capacity: 220 lbs.
The ProGear model is my top budget pick beating out the Exerpeutic model because it's cheaper, lighter (35 lbs vs 42 lbs) and still supports up 220 lbs. Comes with a 1-year warranty.
It also comes with pulse sensors that make fat loss easier by keeping you in the fat burning zone. And the seat is fully adjustable so it can accommodate a variety of body types from 5'1″ to 6'1″.
If you want the biggest bang for your buck, this is a great choice.
---
The Competition
These are the other folding exercise bikes we considered while writing this review that didn't make the list.
Exerpeutic GOLD 500 XLS: This is a step down from the 575 XLS but comes at an affordable price. The trade off being technology features: Bluetooth, 21 preset workout programs, highly visual LCD display, and the ability to set and track your fitness goals). If you don't need all the bells and whistles still want something that's solid and reliable, this is your best bet.
Exerpeutic 250XL: This is a great choice if you exceed the 220 lbs weight capacity of the ProGear model (supports up to 300 lbs) or want a slightly larger seat. Otherwise, the ProGear is a better option because it's very similar and costs less.
Exerpeutic 400XL: This bike is similar to the Sunny Health SF-RB1117 but it supports more weight (up to 300 lbs), comes with a bigger seat back that sits at your mid-upper back, and has a better warranty. And as a result, it costs a few bucks more. So if you have a bad back or exceed 220 lbs, this bike is a solid pick. Comfortably accommodates people from 5'2″ to 6'2″.
Sunny Health & Fitness SF-RB1117: This was almost our top pick for best budget folding bike but the ProGear model is a bit cheaper, a bit lighter, and has pulse sensors. This model has a better warranty (3 years vs 1 year on the frame) and is a recumbent style. If you want more warranty and are okay with lower intensity workouts, this is a good pick.
Exerpeutic Gold 525XLR: This was our second pick for best folding recumbent bike next to the Marcy NS-653. It comes with pulse sensors (NS-653 doesn't), costs less money, and supports up to 400 lbs (compared to 220 lbs on the NS-653).
FitDesk FDX 2.0: This was our second pick for best folding desk bike next to the Exerpeutic Workfit because it costs more, has a weaker warranty, and has a harder time doubling as a standing desk. But if you prefer an upright style, more arm padding, and could use the resistance bands, this is your best bet.
Ancheer Upright: This is the lighter (39 lbs), more affordable version of the Exerpeutic Gold 500 XLS. If you want a heavier bike (51 lbs) at a lower price point, and are okay with only 5 levels of resistance, this is a great pick. Otherwise, you're better off going with the XLS.
Marcy NS-652: This is a toss up compared to the Ancheer model above because it's slightly more expensive, has a better warranty (2-years vs 1-year), supports more weight (250 lbs vs 220 lbs), but doesn't have pulse sensors. You're basically trading in pulse sensors for a better warranty if you choose this bike. Your call. See the full review here.
Final Thoughts
Folding exercise bikes are a great cardio machine for smaller home or office spaces. They can help you lose weight from your living room instead of having to drive to the gym.
Hopefully this we review has been helpful but if there's something we missed or you have a question, please let us know in the comments below—we usually respond within 24-hours!
Now it's your turn. Which folding bike do you ride? Which one are you considering getting and why?
---
More Reviews:
---
I grew up in Canada, played college basketball, and moved to California in 2014. Foam rolling is my best friend. More about my story here.